Violence Is No Respecter of Persons
Is the Left prone to violence in its propagation of its ideology? Clearly there are millions of left-wing folk who detest violence and eschew it to the depths of their being. Clearly there are plenty of left-wing politicians who speak against attempting to promote their ideology by deploying force. Nonetheless there is now a disturbing trend (it would seem) for some left wing folk to resort to aggressive behaviour, if not outright violence.
The latest example is James 'Tom' Hodgkinson, a left-wing protagonist who "shot congressman Steve Scalise during an attack on a Republican congressional baseball practice session on Wednesday, was a leftwing political activist with a record of domestic violence." [
The Guardian
]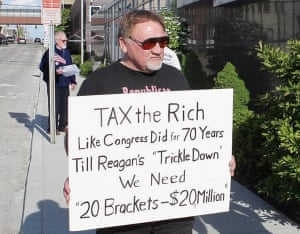 James Hodgkinson
But this is not an isolated occurrence.
The
Daily Caller
has provided a
list
of leftist violence and intimidation breaking out in the United States over the past twelve months.
A wave of liberal rage has marked the last 11 months since the rise and subsequent election of President Donald Trump. Antifa protestors clad in black masks shut down college campuses, destroy property and indiscriminately attack those they disagree with, whether women or the elderly. Meanwhile, CNN fires Kathy Griffin for taking photos with a bloody replica of the president's decapitated head.

Amid this backdrop, The Huffington Post publishes an article calling for the execution of Trump and "everyone assisting his agenda." Then, shots ring out as a man gorged on media hysteria attempts to slaughter Republican congressmen while they practice for a charity baseball game.
The extremists of the right wing are well known from Timothy McVeigh through to the KKK. But there is another list which, sadly, appears to be getting longer. Evil, it seems, is not limited, nor proscribed by political party or ideology.